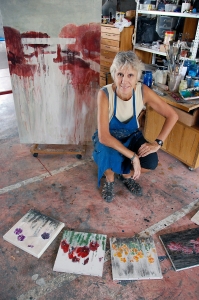 Born in Trujillo, Cáceres Spain in 1955, from the age of two my family lived in Barcelona. It was there that I studied Fine Arts, painting and engraving and sculpture too. At the same time, while still a student I began teaching drawing at a primary school. Having completed studies at the University of Barcelona and while continuing to teach at secondary school level, I painted in a studio in Barcelona.
Travelling in Spain with family, as well as visiting Paris, I remember above all the profound impact the discovery of Prado Museum in Madrid made upon me. In 1980 I was successful in the exams allowing me to take on the position of Faculty Head of Drawing Department and established my base in Palafrugell. I taught and painted and spent as much time as possible indulging in my passion for discovering the wonderful places around me: the sea and the inlands, mountains and valleys, cliffs and coastal trails, wetlands and the Gavarres, people ... At the same time my innate curiosity took me to Italy where I attended workshops with renowned Italian artists. My travels also took me to N.Y. where I attended the Pratt Graphic Centre in Manhattan, my first move towards photo etching.
Field trips alternated with other more adventurous journeys: Mediterranean, Black, Adriatic, Aegean seas... Long trips to Asia and Africa, encountering other cultures and the diversity of Nature... This culminated naturally in much longer periods, the first in 1990 to Colombia for six years and a later period in London. From Colombia my travels took me to different parts of Central and South America providing an immense background of images which will remain with me forever.
Throughout this period in Colombia, I worked with artists in Bogota, sharing many long trips with Colombian and Spanish friends to the Andes, walking and cycling as well as travelling alone. I showed my works in galleries, in solo or group exhibitions, displaying different views of the Colombian " páramos", Galapagos Islands, Caribbean coasts, pre-Columbian archaeological sites...
On my return to Palafrugell I established a new studio, however six years later in 2002 I set off again, this time to London where I lived in Hammersmith, just a stone's throw from the Thames and its waters have made an impression on me ever since. I continued to teach and expand my knowledge of engraving with a Masters degree at the London Print Studio, while painting was left for my return to Palafrugell six years later. There I resumed painting in connection with the Thames series I engraved in London. This is an important part of the body of work I am absorbed with at present.
Currently I teach and continue mainly painting, between Barcelona and Palafrugell .
Education and Qualifications
1972-1977 University of Barcelona.
Facultat de Belles Arts de Sant Jordi , Painting degree (MA) and
etching c. Escola de les Arts del llibre, Barcelona
1977-1978 Painting, Ceramics in Perugia and Sargadelos.
1982-1986 Pottery, La Bisbal, Girona
1982,1984,1986 Woodcut, Etching and Lithography, Istituto d'Arte, Urbino Italy
2003-2005 Brighton University and London Print School, UK
MA : Printmaking and professional practice.
Professional Practice and Workshops
1980 Faculty Head of Drawing Department whitin the Spanish Secondary Education System
1986 Etching, Pratt Graphic Center, N.York
1989, 1992 Lithography . Montelabbate , Italy
Solo Exhibitions
Exposicions:
2019 Escenes i Contrastos, Castell Palau de La Bisbal
2019 "FLUVIAL" Obra gráfica de gran format.Sala dels Amics del Museu d'Art de Girona
2018 Ca la Pruna, Pals
2017 Can Trinxeria, Cassà de la Selva i La Galeria F.Vila Casas , Palafrugell
2016 Arteca, Palafrugell
2002 Centro Cultural Caja Duero, Cáceres and Plasencia
2002 Galeria Cal Talavero, Verdú.
2002 Invited artist at the Academia de Belles Arts de Sabadell
2000-2001 Galeria La Polèmica, Palafrugell
1999-2000 Galeria Jordi Barnadas, Barcelona
1999 Centre Cultural Caixa de Terrassa, Terrassa
1999 Galeria Can March, Begur, Girona
1996 Tunja. Colombia. Com artista convidada a les Jornades Culturals
dedicades a España.
1995 Galeria Belarca, Santafé de Bogotá
1995 Centre Cultural ColomboAmericano, Santafé de Bogotá
1994 Centre Cultural Español Cartagena de Indias, Colombia
1992 Galeria Belarca, Bogotá
1989 La Penyora, Sala d'Art Girona .
1987 Associació Cultural "Ahí voy",
Sant Feliu de Guíxols,Girona.
Group Exhibitions
2013 Arteca, Palafrugell
2004 London Print Studio, London
2005 London Print Studio, London
Brighton University
2003 Art Contemporani Catalunya
Ancienne Chapelle de Rham, Luxemburg
2002 Galeria Jordi Bernadas, Barcelona
2002 Galería Cal Talaveró
2001 Art Expo, Barcelona, Galería Dionís Bennassar
2001 Galería Cal Talaveró
2001 " Garoines" Galería La Polémica, Palafrugell
2000 Galería Dionis Bennassar, Madrid
2000 Art Expo, Barcelona, Galería Dionís Bennassar
1998 Obra sobre paper, Galería Can March, Girona
1997 Premi de Pintura Ricard Camí
1995 Pintura Española, Universidad Antioquia, Colombia
1994 Colectiva Galeería Belarca
1993 Corona Studio, West Room Gallery, New York
Awards
First Prizes
Premi Pintura Jove, Sala Parés Barcelona
Premi Fundació Amigó Cuyás, Barcelona
Fine Art Student Award, Council of Barcelona
Scholarship
Fundación Rodríguez Acosta, Granada